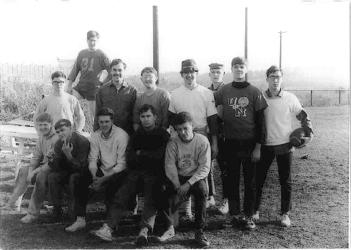 Seated from the left are: Jim Skowronski from Rockford, Ilinois (married Debbie Thayer) I drove down to his wedding in the spring of 1972 or 1973.
Les McCauley, Gary Hughes from Minnesota his nick name was Cowboy and I think he was from Bemidji, Mike Milton Marietta GA., Bill Surette

Middle ? Bob Bowen, ? ? ? Phil Falsone

Back row Bob Howfield from Parsippany, New Jersey (him and Falsone went to Boot Camp and R school together) and the last guy with his hat on backwards was from Minnesota also and I think his last name was Keister or Kiester.