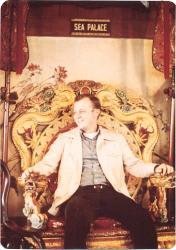 John Whitmire on liberty in Hong Kong.

TGU Yokosuka personnel, John Whitmire,
Gene "Mad Dog Mudd the Maggott" Merritt, and
WO Burns rode the USS Rowan to Hong Kong for 6 days
of liberty. Of course there was a reason: we were
testing the installation of the first OICS VAN to be
deployed onboard a combatant. During transit from
Yokosuka to Hong Kong we stood watches and ironed
out some of the system's bugs. We, the TGU riders in
Yokosuka, later rode the USS Rowan, on two seperate
occasions, to the Sea of Japan for operations.