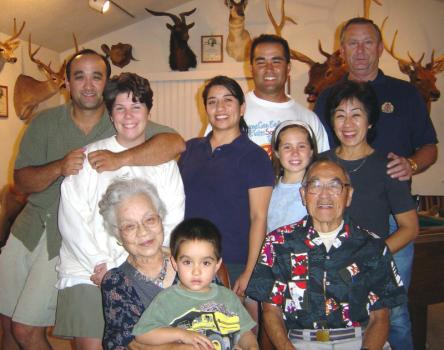 The Damron Clan - there are 4 generations in the picture. Arlene's parents, Arlene & I, our two sons, and their
wives, and our grand children. On the left side standing is Alex & wife Laura; they are the ones who were awarded
the Navy and Marine Achievement award. Laura received hers a year earlier than Alex. Standing in the middle is
Brett & his wife Norma. Arlene and I are standing on the right hand side and standing next to Arlene is our
Granddaughter Alexis. Arlene's parents, Alice and Dave Tatsuno, are sitting along with our grandson Justin.
Arlene's parents are both 90 years old. (Grampy will be 91 in March).
As you can see in the background of the picture I am an avid Bowhunter.