DECORATED AT FLEET HEADQUARTERS - Adm. John J. Hyland (center)
decorated four members of his staff Friday (Sept. 19) during awards ceremonies
at Fleet Headquarters. The winners are: (from left) Capt. John K. Leslie, who
received the Legion of Merit for his services as Fleet Personnel Officer for the past
three years; Capt. Daniel S. Capozzalo, who accepted the Legion of Merit for his
work with the National Security Agency during the last two years: Adm. Hyland,
Commander in Chief, U.S. Pacific Fleet; Lt. Edward D. Dettloff, who received the
Navy Commendation Medal for his work with providing security for operational
communications in the Republic of Vietnam last year; Marine Corps
Maj. Thomas C. Hargrove, who was awarded the Navy Achievement Medal for
his role as intelligence briefing officer for senior marine officers at Fleet Marine
Force Headquarters, Pacific, during the past two years.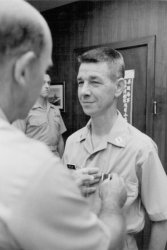 ADM. John J. Hyland,
Maj. Thomas C. Hargrove, LT. Dettloff