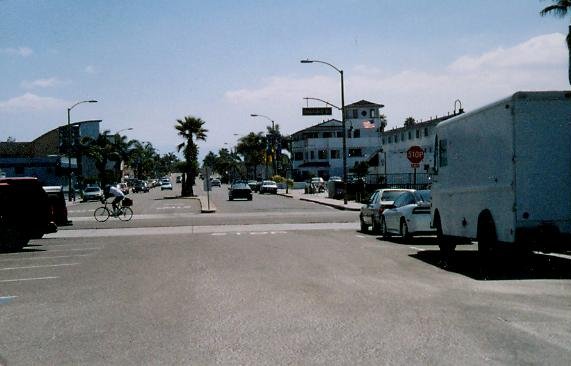 Imperial Beach main drag

Additional narrative:
The picture was actually taken from the cul-de-sac. That's why it didn't look familiar. To the
left is Ye Olde Plank the oldest tavern in Imperial Beach. After you get past Seacoast on your
right would be the VFW and further on down would be Bryan's Landing on the right and
Mickey's on the left. Of course the next major street would be the entrance to the Radio Station
on the left (Silver Strand Blvd). The cross street shown is Seacoast Drive. Actually, if you turn
right at that street and go down about a half mile at the foot of the pier is my dad's ice
cream/coffee shop. My mom has some other pictures. I'll have to send you some more.
It's changed quite a bit in the last couple of years. Well, better go.
Cheers, Tim Medlock